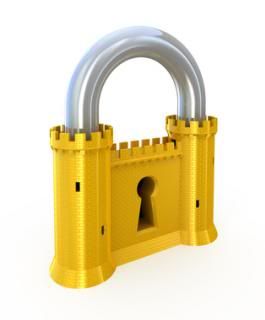 As a mom you often have to care for the kids, manage the house and take care of lots of other responsibilities. As a military mom, you are also in charge of home security. While your husband is deployed, take these extra precautions to feel, look and be safer:
Home Alone
Install blinds and close the curtains. Don't let something as simple as a clear view make you, your kids or your belongings a target. Keep valuables out of sight.
Remember key control. Be mindful of how many spare keys you hand out, and do so sparingly. Don't keep a spare key hidden outside. Keep it with a trusted friend instead.
Be involved. Know what is going on in your community and stay up-to-date on local crime trends. Contact your police department to learn what you should be aware of and what extra precautions you can take.
Out and About
Use your security system. Even if you are only running short errands, make it a habit to always activate your alarm. Some alarm systems have remote interactive technologies so you can arm or disarm the system from your phone while you are away.
Befriend your neighbors. A neighbor who knows you is more likely to help when you need a hand around the house, or even be a listening ear when you need to chat. Suggest starting an unofficial neighborhood watch together.
While You're Away
Make it look like you are home. Use electronic timers to switch lights, TVs and the radio on and off. Have a friend stop by and get the mail, feed the animals and mow the lawn.
Don't over share. If you and the kids are off to visit grandma, don't broadcast it on social media sites. Potential burglars see this as an invitation to an empty home. Wait until you return home to share stories and pictures.
When you return, if something seems amiss, call 911. If you find an open door, see a cracked window or just feel like something is wrong, don't risk it. Leave or lock yourself in your car and call the police or a trusted friend to go inside with you.
With the Kids
Regularly run-through your safety plan. Pretend there is a fire or flood and ask the kids to show you what they'd do. Prepare for every scenario, including stranger danger, home alone safety, and what to do if you are sick or injured.
Set up a safe room. Instruct kids to go there if there is ever an emergency. Keep a phone with emergency contact information, as well as flashlights, a first-aid kit and any other necessities you think you may need. Ideally it would be a room accessible to the outside in case you or the kids need to exit without using the front door.
Around the House
Be extra careful. Even if you lock sliding doors and windows, place a wooden dowel in the tracks to prevent them from being opened from the outside.
Illuminate to eliminate fear, potential weaknesses and hiding places. Use lighting to brighten dark areas around your home. Burglars are less likely to poke around if they can be seen from the streets.
Even if you don't have a mean dog, pretend like you do. Hang a "Beware of Dog" sign in your porch window or on your front gate. Keep doggy toys and a water bowl nearby for good measure.