Today's post for Everyone Serves  for Blue Star Families I will be talking about how this is our last deployment, my feelings on homecoming and what the future looks like for us.
November 2005 my 30-year-old husband of almost 3.5 years re-enlisted in the US Army. He had been in before for a little over two years before I met him.
Now that is it almost November 2013 I can look back on the last eight years and think about what our life will be like after the Army.
My husband will be getting out of the Army in June making this his very last deployment. It will be the last time I have to send him off to war. It will be the last homecoming for us. When I think about that day, the day I go to pick up my husband, I can't help but get excited about it. Not only will the deployment be over but it will be the last deployment we ever have to deal with.
When I stop to think about that, it makes getting through these last few months a little easier. To know that whatever frustrations I feel about my husband being away, they are only temporary.
When he joined eight years ago we had no idea what Army life would be like. We had no idea he would be deployed so much or miss so much of our kids lives. We had no idea that things like promotion would be so frustrating. We had no idea if we would love it or come to a place where we were ready to walk way. We also had no idea that we would have two special needs kids and that solo parenting would be as hard as it has been. We just didn't know. We took a chance on something and now that something is coming to an end.
I know when we are 60 years old and look back, Army life will have only taken up about 8.5 years of our time together. That doesn't seem like a long time when you think about. However, since that is our time right now, it is our current reality.
Another reason I am so ready for this deployment to be over is we never really get to talk while he is away. We have not had a serious conversation since June. We need to start planning for after the Army. We need to see what our options are and see what we can do. It feels impossible to do any of that while he is gone.
Is your spouse deployed too? How are you doing with it?
Follow Blue Star Families on Facebook, Twitter, and Google+ and build a support network so you can keep your family and personal community strong throughout the duration of the entire deployment life cycle.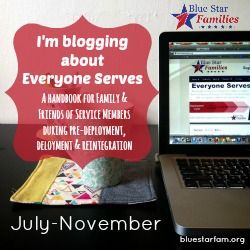 (Visited 9 times, 1 visits today)
Comments
Tell me what you think!