This is a sponsored post written by me on behalf of 7-Eleven Franchising for IZEA. All opinions are 100% mine.
As a Military spouse, I am excited to share with you a new contest just for veterans. You can win the chance to have your own 7-Eleven Franchise! This is such an exciting promotion open to all U.S. veterans.
A Veteran is anyone who has served in the military and veterans know what it is like to serve their country. They also work hard to create a life for themselves after they are out of the military. Many go on to become business owners taking the skills they have learned in the military and applying them in their new workplace.
7-Eleven is a company that supports veterans because the President and CEO, Joe DePinto, is also a military veteran. He understands what it is like to be in the military and then attempt to find your way afterwards.
As a military spouse, I am thankful that there are companies out there that do support veterans. My husband served in the active duty Army for 10 years and is now in the National Guard. Being deployed, going through multiple PCS moves and learning to navigate how the military works can all be very stressful. It is great to see people giving back to those who have lived the military life.
As our own family has made the transition out of active duty life, we know how nice it is to have a plan. We have stressed about what my husband will do during his years after the military. This opportunity can help a veteran achieve their after-military goals and allow them to have a good life while letting them use the skills they have learned in the past during their time in the service.
7-Eleven makes a great partner for veterans as it was voted Best for VeteransFranchise. In the past four years, 203, 890 new veterans and military spouses have started franchising careers and 5,608 vets have become franchise owners. In the past year alone, 50,000+ vets have found employment in the franchise industry.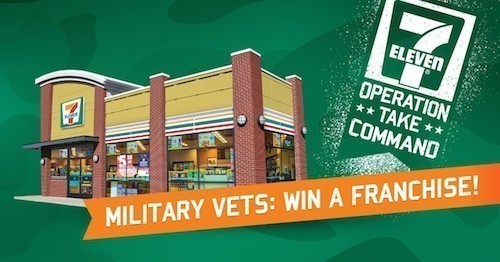 Want to know more about what it means to have a Franchise?
It's turnkey – 7-Eleven will provide the store, land and equipment
A gross profit split means they're invested in your success
You get extensive training support from franchise pros
Start-up is fast (3-6 months) and 7-Eleven is with you every step of the way
Sound good to you?
This is how the contest will work…
Enter – fill out the form on the website to enter.
Apply – apply through January 25, 2015.
Finalists announced – top finalists will be announced in March 2015.
Make a video – each finalist will create an impressive video explaining why he or she should be the winner.
Videos are posted to Facebook – all finalist videos will be posted to the 7-Eleven Franchising Facebook page.
America votes – the top three are flown to Dallas for a final interview.
We have a winner! – the 7-Eleven franchise winner is announced April 13, 2015.
Remember, if you are a U.S. Veteran, you have a chance to win this. Just head to the OPERATION: TAKE COMMAND website to enter 🙂 Good luck!!!
Last Updated on August 10, 2015 by Writer